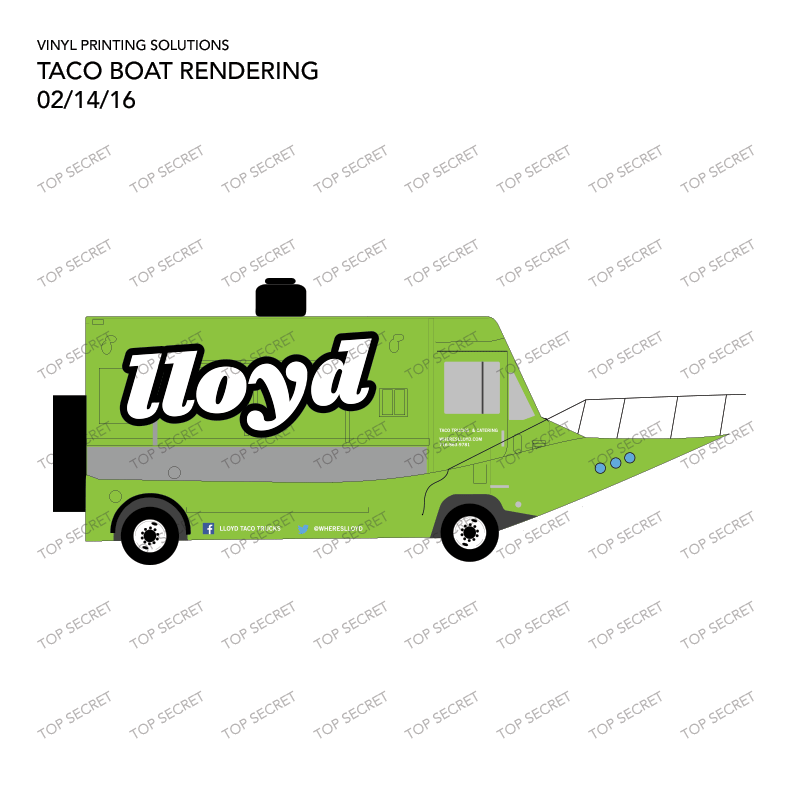 The past 5 and a half years have been great to lloyd: 4 taco trucks & a brand new brick and mortar location on Hertel Avenue. The question isn't what will lloyd do next, it's "What WON'T lloyd do next?"
lloyd is Taking To the High Seas!!
Yep, you read that right. We've gotten board (wink wink) of serving tacos on dry land. Where's the thrill in that?
"We knew it was time to expand again. Everyone loves tacos, but it's all about customer experience. Selling tacos on the water just makes sense" said Chris Dorsaneo, co-owner & Head Chef at lloyd. "It's an untapped market and we're always fishing for new sales."
Starting this summer you'll be able to get your favorite lloyd fare from our brand new TACO BOAT!
We've outfitted a truck, equipped it with seafaring abilities and are launching it in Erie Basin Marina this summer. We want to take advantage of the concert series at Canalside and the bustling vibe by the waterfront.
A Whole New Market
Fully equipped like the rest of our trucks (flat top, grill, steamtable, two refrigerators, fryers, etc.), fabrication was necessary to create an amphibious vehicle. We installed reinforced bumpers to accommodate a taco shaped anchor and allow for flotation.
"Water makes up 2/3 of Earth's surface. Why limit ourselves to land when there's so much more untapped real estate to be had in the water?" commented co-owner Pete Cimino. "We still have to dock over 100 ft. away from restaurants like we do on the streets."
"We'll feature a 'catch of the day' special featuring everything we've caught that morning", added Dorsaneo. "Plus we don't have to pay for the fish we catch, it's a win-win."
The Sky's the Limit
Depending on the popularity of the taco boat, expect some unique offerings from us soon. We're looking to add a "Taco Tank" to the mix by 2020 and head to space after that.
"We're currently working on obtaining permits to construct a state of the art Taco Factory on the Moon. The Factory would run on solar power & moon rocks" said Cimino.
"We're just waiting on the United Nations Office of Outer Space Affairs to construct vendor rules for businesses operating in outer space. It'll be outta this world."