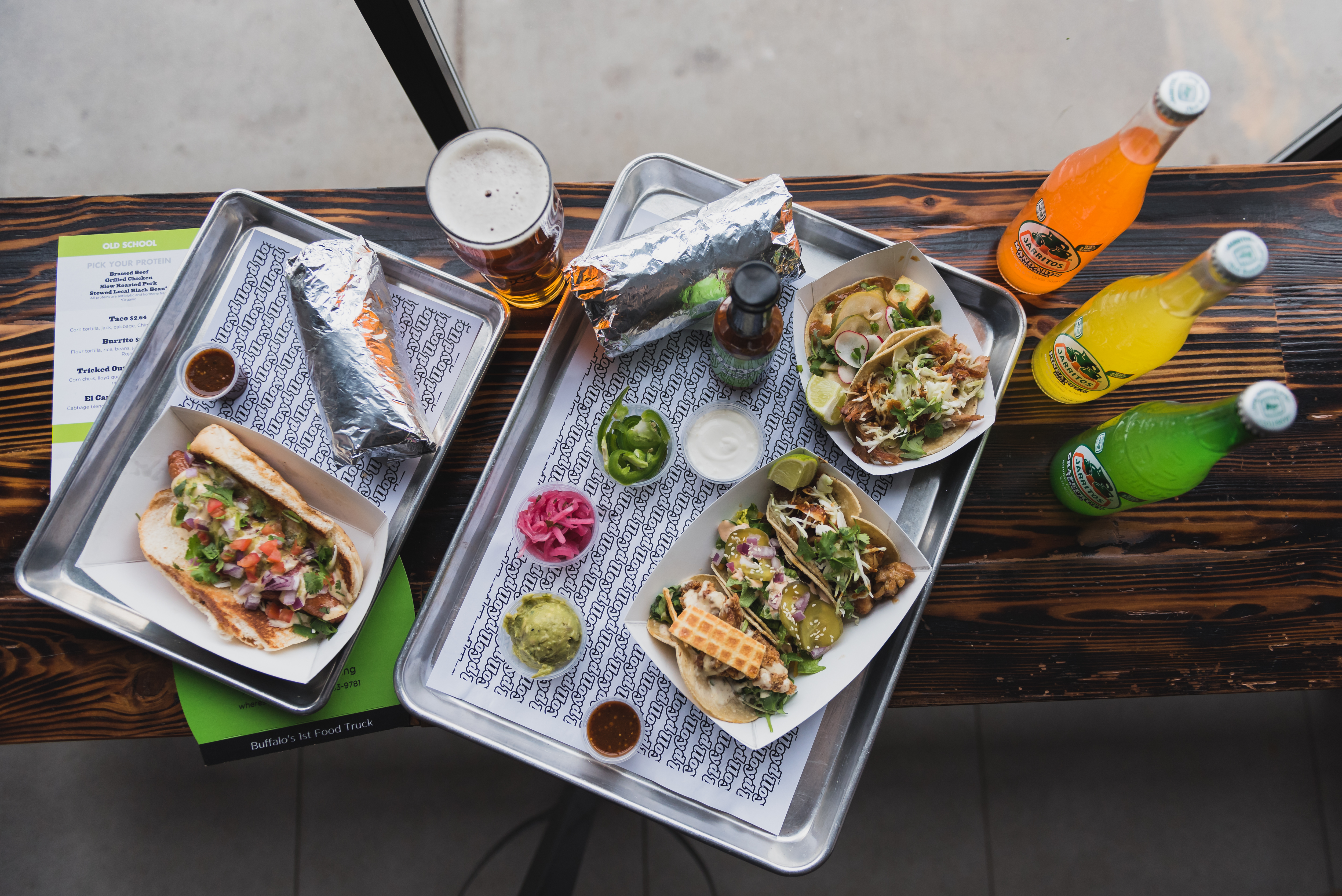 When we finally opened the doors of the Taco Factory on December 19th, 2015, customers lined up early to get their spot in line. What brought them there? Months of anticipation, dreams of finally being able to get lloyd anytime of day and the ability to enjoy your favorite tacos with an alcoholic beverage in hand. Dreams do come true.
Yeah, roasted pork tacos and braised beef burritos are pretty sweet, but we knew we had to ramp things up a bit. In a mountain somewhere in Mexico lives a troll who keeps all of our recipes safe. Things you've never dreamed about, branching out from the taco world into a place where anything is possible.
Introducing the "S'more Stuff" portion of the Taco Factory menu.
Sonoran Dog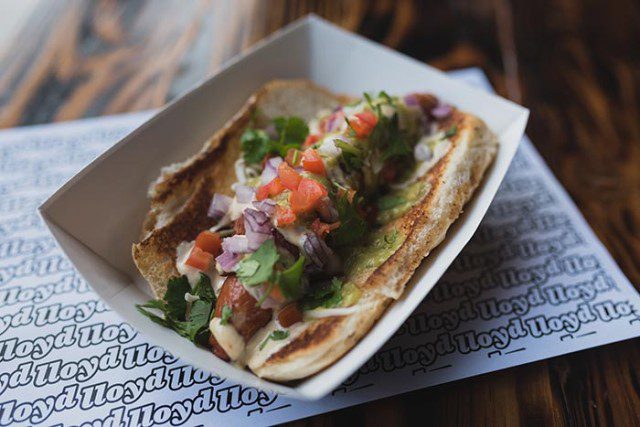 Seriously?! lloyd makes hot dogs now?! You got that right, Jobin.
But this isn't just any ordinary hot dog. We've taken an antibiotic/hormone/nitrate free dog, wrapped it in all-natural bacon, topped with #hulksauce (avocado & tomatillo sauce), rocket mayo, onions, tomatoes & cilantro.
We throw the bun on the grill to get a nice char while the dog is deep fried. Rocket mayo is exactly what it sounds like: a delicious combo of rocket sauce & mayo.
It's an homage to the Sonora county in California where hot dogs of this caliber came to be. UP your hot dog game.
El Santo Skewers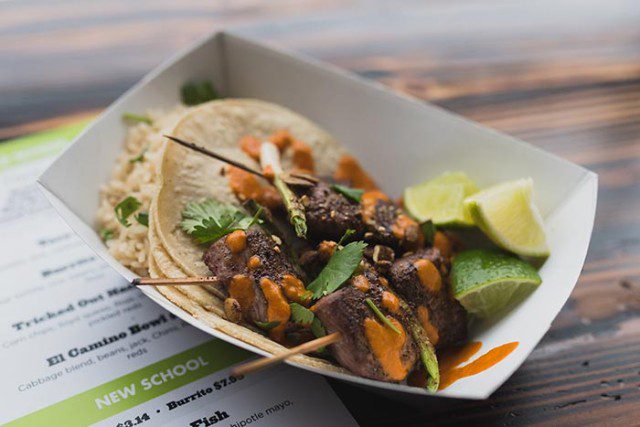 One of the most under-appreciated items on our menu, the El Santo Skewers. We start off with three sets of skewers, three pieces of ABH free steak on each. The steak is then seasoned with a 7-spice rub (coffee, cocoa powder & coriander to name a few) and roast it under the broiler.
Served on a bed of white rice with 3 tortillas laid on top, we recommend DIY steak tacos. Slide that steak right off and enjoy 'em taco style!
Everything is then topped with a piquillo vinaigrette, charred scallions, cilantro, and the best part, spiced/candied pumpkin seeds.
Cortez Salad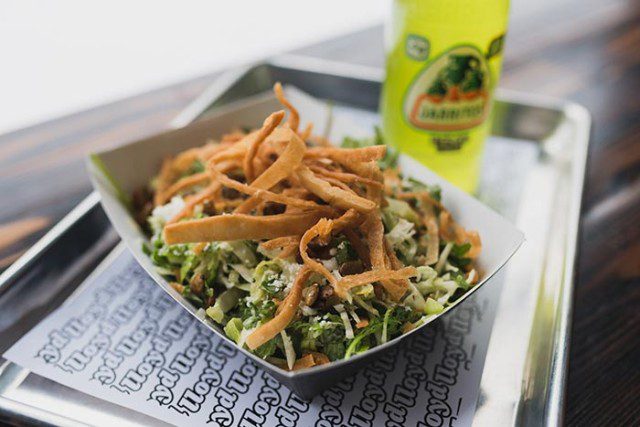 We've gotta thank Neil Young for the name. It's a take on a Caesar Salad done lloyd style. A mix of house greens and fresh cabbage, we've created a homemade cotija sauce to dress to dress your greens to the max.
Once mixed to perfection, we put it in a boat and top it off with fresh tortilla croutons made from our corn tortillas. After a light sprinkle of cotija cheese and the addition of pumpkin seeds, you're ready to rumble.  
"El Hombre" Quesadilla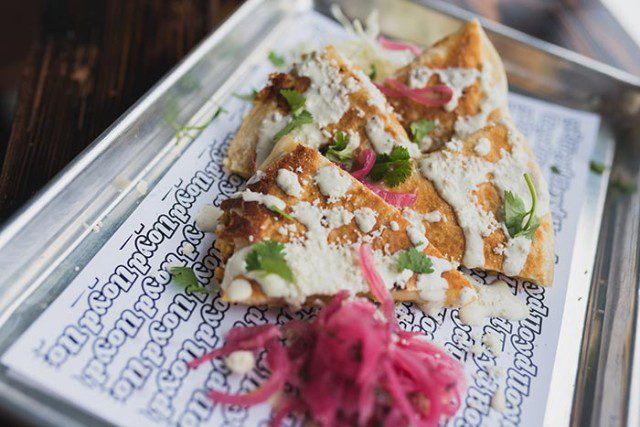 Our longtime truck patrons' ears just perked up. El Hombre? Yep, similar to the taco special, but now we're doing it in Quesadilla form ALL the time. We mix our house made chorizo, potatoes and onions into a "hash" and line a flour tortilla.
Layered with queso chihuahua, we grill it on our flat top until both sides reach a golden brown crisp. It is then cut into quarters, set on top of a cabbage bed, topped with avocado crema, cotija cheese, cilantro, and pickled red onions, no doy no doy.
Rocket Wings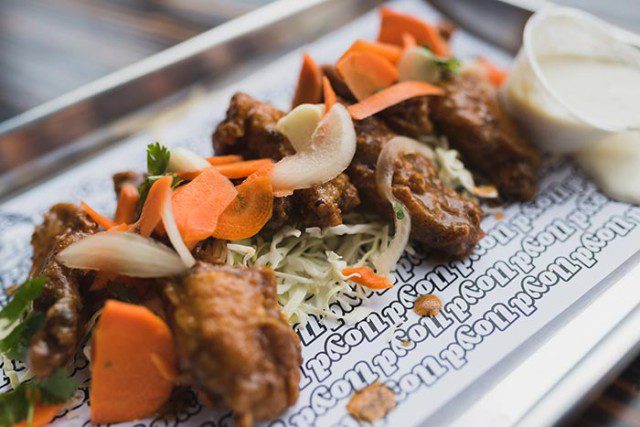 It might be impossible to drive more than a quarter mile in Buffalo without passing a restaurant that serves wings. We've served these only in times of wedding celebrations and other special events. Now they're available year round!
We double fry our wings, toss them in melted butter and rocket sauce until they're dripping in greatness. Served on a bed of cabbage (no doy), we offer a cup of wanna-be-blue-cheese dip (a creamy cotija cheese laced concoction) on the side along with pickled carrots and onions. Buffalo Wings done lloyd style.