The days of ground beef, cheese & lettuce in a hard shell tortilla are over.
Over the years lloyd has experimented outside of the "standard" menu highlighted by roasted tomatillo pork & braised beef tacos. Those who have been patronizing the truck since the Main & Mohawk days might remember a singing fish strapped to the side of a once white OG. This was the birth of our first special, Crispy Fish.
The Times, They Are a Changin'
Our culinary team led by co-owner Chris Dorsaneo & Sous Chef Teddy Bryant work hard to bring the phrase "everything in the world in a taco" to life.
Some of our most popular specials included the Dirty South, Skinny Thai, Crispy Fish, & Big lloyd. These Fantastic Four have made the final cut & found themselves a permanent spot on the Taco Factory's menu.
For years #loyalloydians flocked to the trucks & tweeted their cries from the rooftops to get their hands on possibly our most coveted special of all time, the Dirty South. Consisting of buttermilk fried chicken, bacon aioli, local maple syrup, & a homemade waffle crisp, we had no choice but to make it a Taco Factory regular.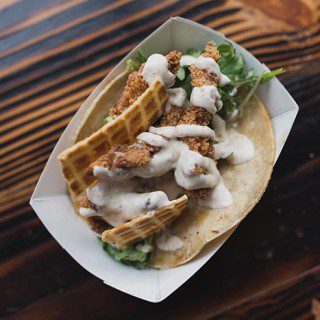 Think Outside the Tortilla
Providing specialty items for the vegetarian crowd was a tough task at first as black beans were the only friendly face on the menu for some time. Additions like the Crispy Fish & Skinny Thai added palatable options for the meat-less crowd.
Skinny Thai was the first Asian inspired special we brought to the streets. Featuring organic tofu, a housemade peanut sauce, pickled cucumbers, fresh radishes, scallions, cilantro, & of course, a lime wedge. It's even converted some of the most strict carnivores into the veggie scene, even if it only lasted for the time it took to eat one taco.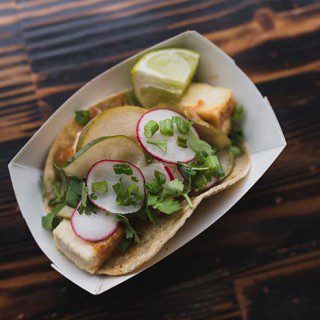 Crispy Fish offered a safe haven for customers avoiding all things meat on Fridays during Lent. Consisting of panko breaded wild caught Alaskan Pollock, house-made chipotle mayo, fresh cabbage, radish, cilantro, & a lime wedge. A world without fish tacos is not a world lloyd wants to live in.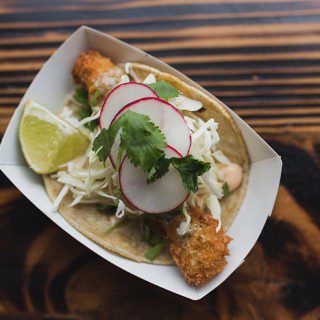 BIG Ideas Require BIG Flavor
A few years later saw the rise of a special that caught the attention of everyone from first timers to twice-a-day patrons.
We shall call it: The Big lloyd. Complete with grass-fed ground beef, we've put our lloyd spin on the "two all beef patties, special sauce, lettuce, cheese, pickles, onions-on a sesame seed bun." We thought using tortillas might fit our business model a bit better.
We season our grass-fed ground beef with a special house seasoning, then top it with all-natural cheddar cheese, lloyd-made russian dressing, pickles, diced red onion, lettuce, & sprinkle some toasted sesame seeds on top for good measure.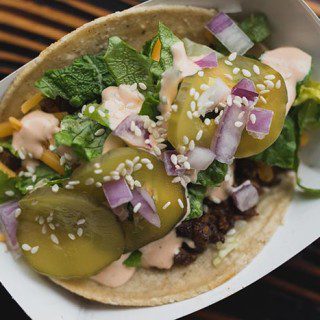 Continuing to improve, evolve, & maintain high menu standards keeps things interesting not only for the customers, but for lloyd as well.
You really can put anything in the world in a taco & we're here to prove it.