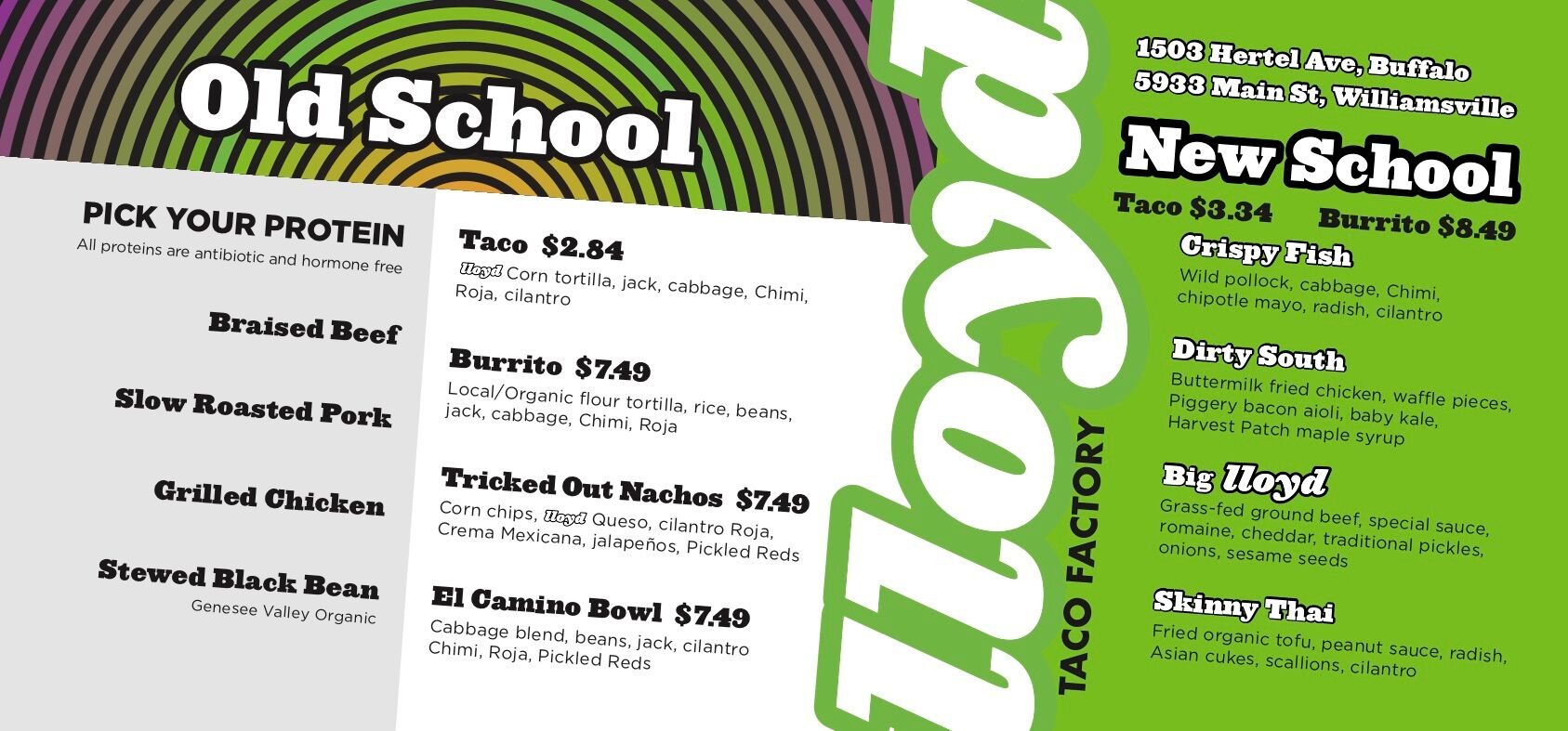 Spring hasn't really sprung, but someday, somewhere in Buffalo, it'll get warmer.
Beginning last week, we launched our Spring Menu at both Factories! We've added 3 new items that even the most OG lloyd fan hasn't tasted before. Lets meet the newest members to the squad (and say goodbye to the ones who were cut from the starting lineup).
Sticky Chicken Skewers – $8.99
Grilled thighs
hoisin marinade
Rocket mayo
Asian cukes
pickled fresno peppers
scallions
Served on bibb lettuce w/ corn tortillas on the side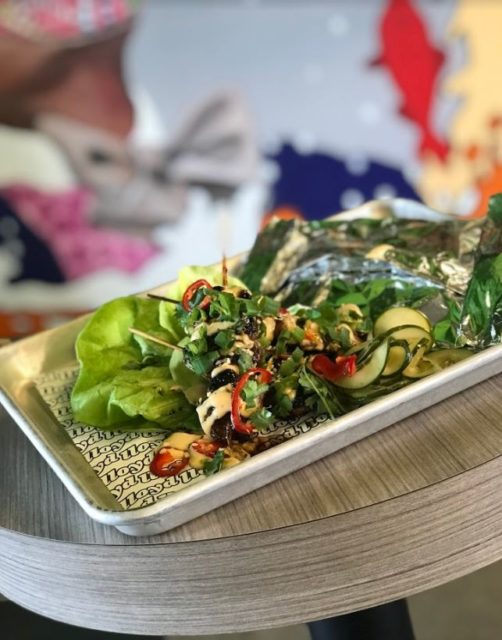 Who got replaced?
Sorry to all of our Most Awesome Salad lovers, but the good news is these are basically a salad if you believe it hard enough.
Do you like to…..do it yourself?
This is a DIY situation. You've been given the ingredients to achieve greatness, all you have to do is figure out what road you wanna take to get there. We serve them on bibb lettuce leaves with 6 corn tortillas on the side because it's your life & we don't want to tell you how to live it. Lettuce wraps vs. DIY tacos, who will come out victorious?
Xtra Special Hummus – $5.99
Local/Organic black beans
chickpeas
roasted shishito peppers
EVOO
sliced cukes
charred carrots
house chips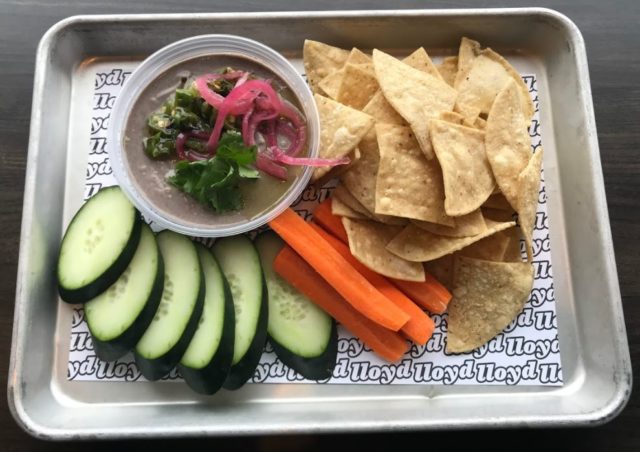 Who got replaced?
Our Loaded Hot Pockets got axed to make way for it's healthier, low carb, bean puree based cousin: Hummus.
Hummus at a Taco Joint?
If you haven't already noticed, lloyd isn't your traditional taco joint (if that's the case, are we even friends?). That's why we had to take a shot at making our very own hummus. It's a black bean puree mixed with smashed chickpeas & topped with roasted shishito peppers, EVOO & Pickled Reds. Sliced cukes, charred carrots & house made chips are presented on the side.
Snozzberry Cheesecake – $3.29
G.O.A.T. Cheesecake
Snozzberry sauce
oatmeal crumble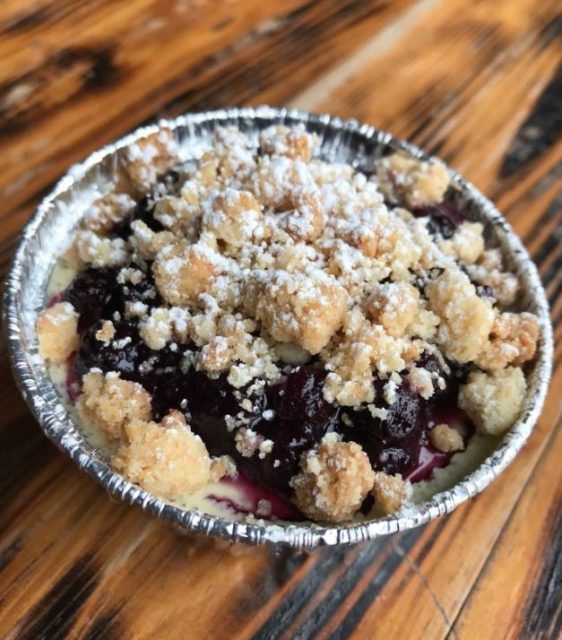 Who got replaced?
Bye bye bye Pumpkin Cheesecake. It's Springtime now, you're a Fall flavor, man!
Snozzberry Fields Forever
The most beloved cocktail in our arsenal helped us out with this newest dessert addition. Wonka's own Snozzberry recipe lays the foundation for the fruity, sweet sauce we lay on top of our housemade G.O.A.T. cheesecake. Finish it all off with an oatmeal crumble & it's party time.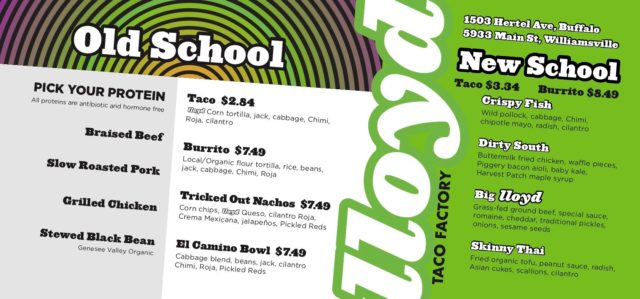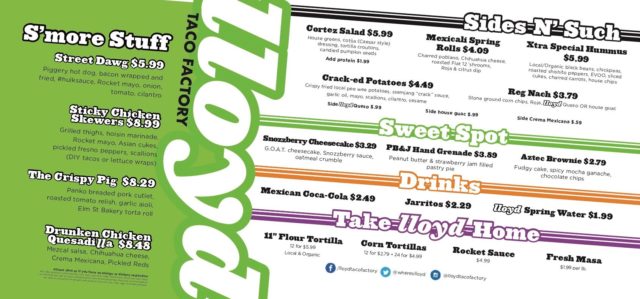 These items are available at both of our Taco Factories RIGHT NOW (1503 Hertel Avenue & 5933 Main Street). We've updated our Cocktail Menu, too!! Check it out right here.