Menu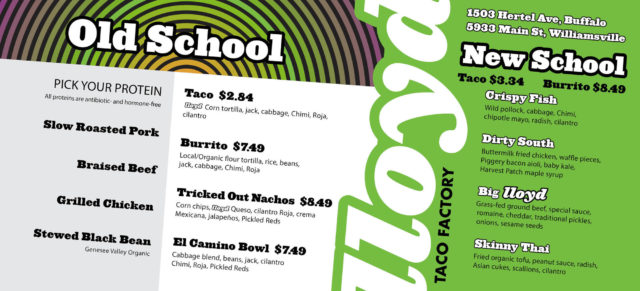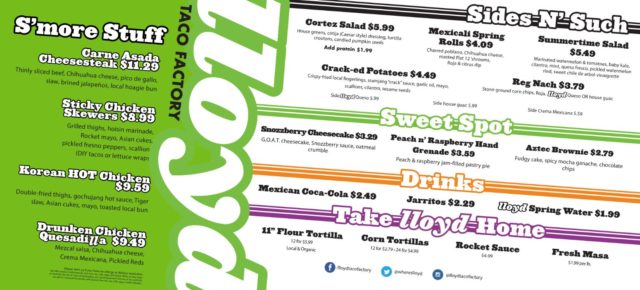 Old School
Pick your protein
Braised Beef • Grilled Chicken • Slow Roasted Pork •Stewed Local Black Bean*
All proteins are antibiotic and hormone free 
*Organic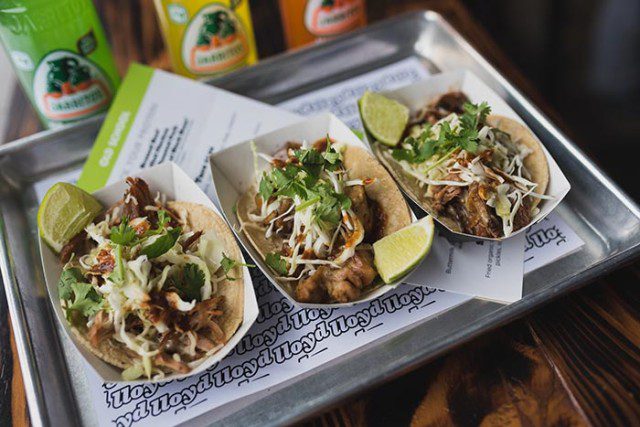 Taco $2.84 Corn tortilla, jack, cabbage, Chimi, Roja, cilantro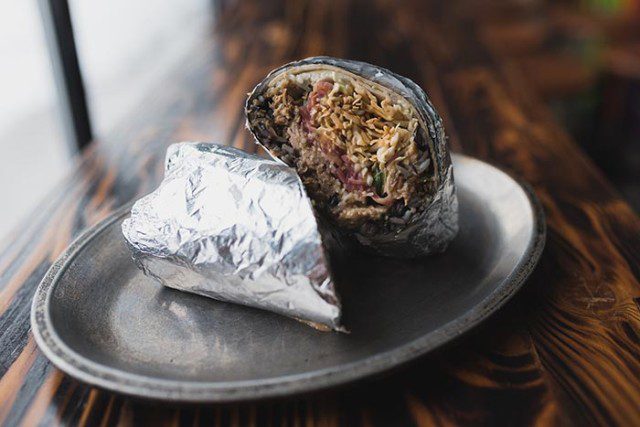 Burrito $7.49 Local/Organic flour tortilla, rice, beans, jack, cabbage, Chimi, Roja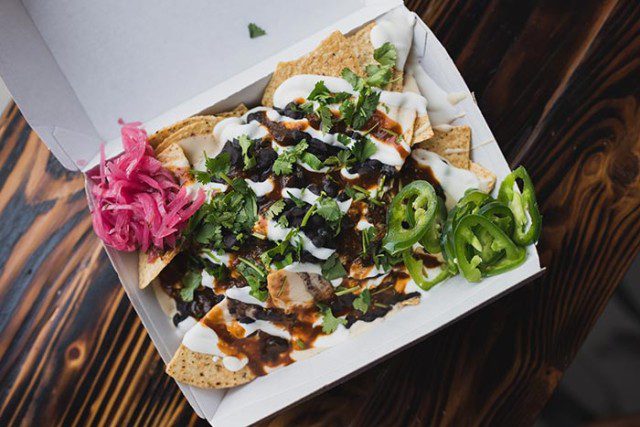 Tricked Out Nachos $8.49 Corn chips, lloyd queso, Roja, Crema Mexicana, jalapeños, Pickled Reds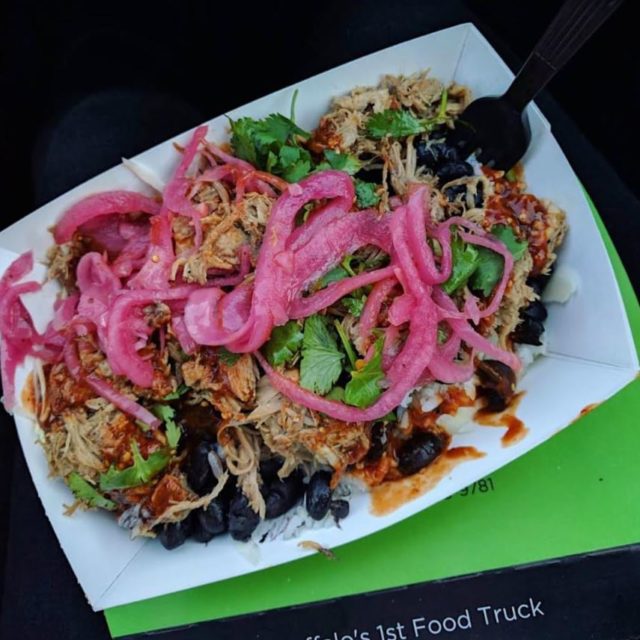 El Camino Bowl $7.49 Cabbage blend, beans, jack, Chimi, Roja, pickled reds
---
New School
Taco $3.34   •   Burrito $8.49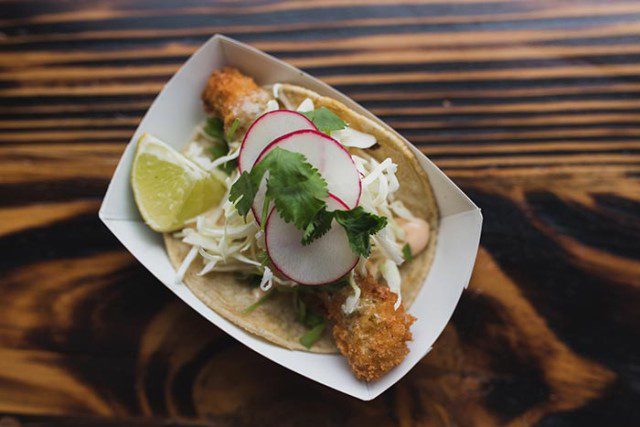 Crispy Fish Wild pollock, cabbage, Chimi, chipotle mayo, radish, cilantro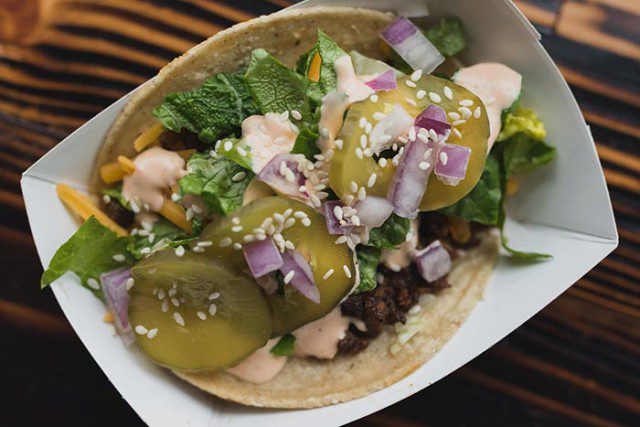 Big lloyd Grass-fed ground beef, special sauce, romaine, cheddar, traditional pickles, onions, sesame seeds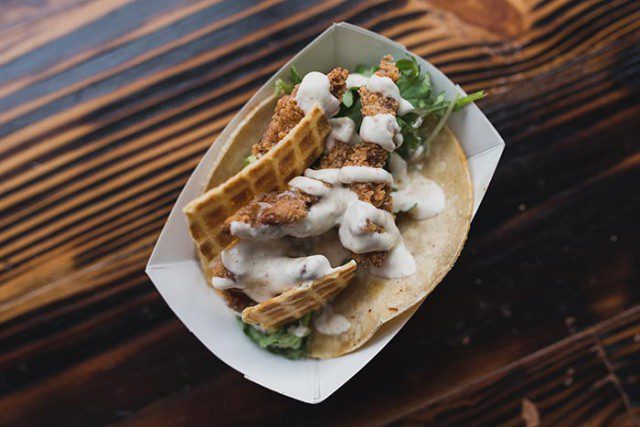 Dirty South Buttermilk fried chicken, waffle pieces, baby kale, Piggery bacon aioli, Harvest Patch maple syrup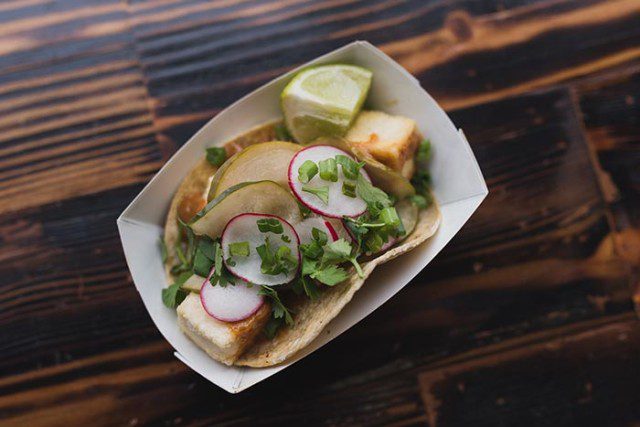 Skinny Thai Fried organic tofu*, peanut sauce, Asian cukes, radish, scallions, cilantro
---
S'More Stuff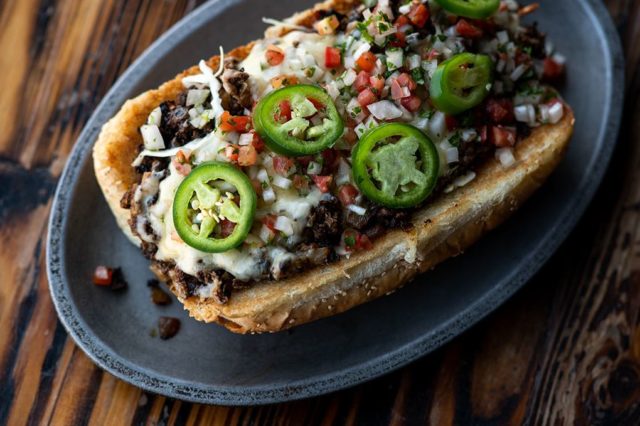 Carne Asada Cheesesteak $11.29 Thinly sliced beef, Chihuahua cheese, pico de gallo, slaw, brined jalapenos, local hoagie bun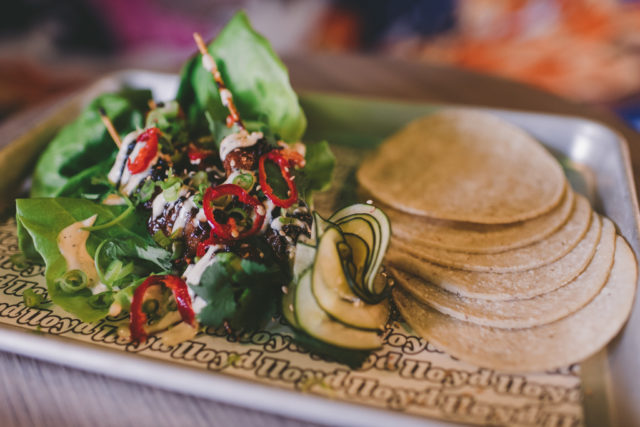 Sticky Chicken Skewers $8.99 Grilled thighs, hoisin marinade, Rocket mayo, Asian cukes, pickled fresno peppers, scallions.
(DIY tacos or lettuce wraps)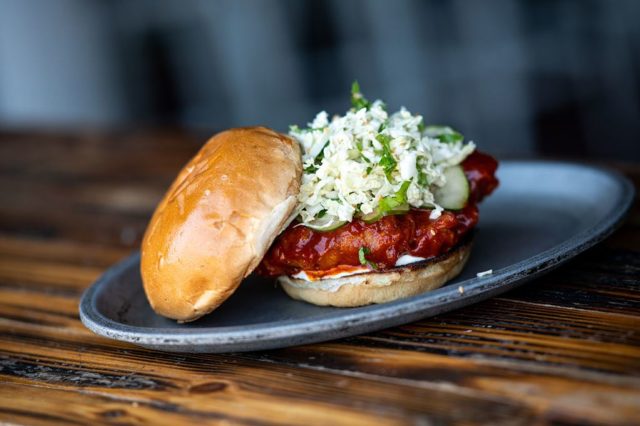 Korean HOT Chicken $9.59 Double fried thighs, gochujang hot sauce, Tiger slaw, Asian cukes, mayo, toasted local bun
Drunken Chicken Quesadilla $9.49 Mezcal salsa, Chihuahua cheese, Crema Mexicana, Pickled Reds
---
Sides & Such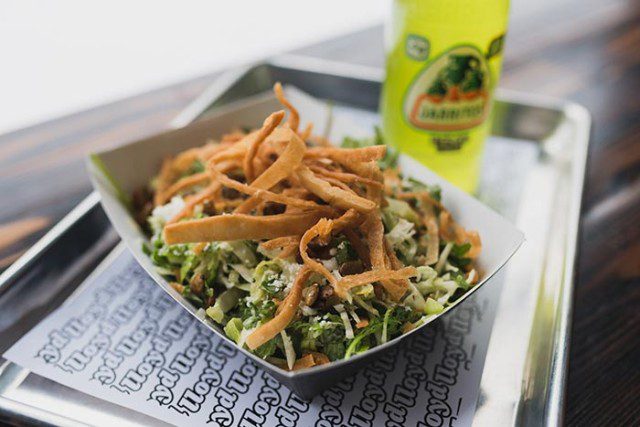 Cortez Salad $5.99 House greens, cotija (Caesar style) dressing, tortilla croutons, candied pumpkin seeds
Add Protein $1.99
Mexicali Spring Rolls $4.09 Charred poblano, Chihuahua cheese, roasted local Flat 12 'shrooms, Roja & citrus dip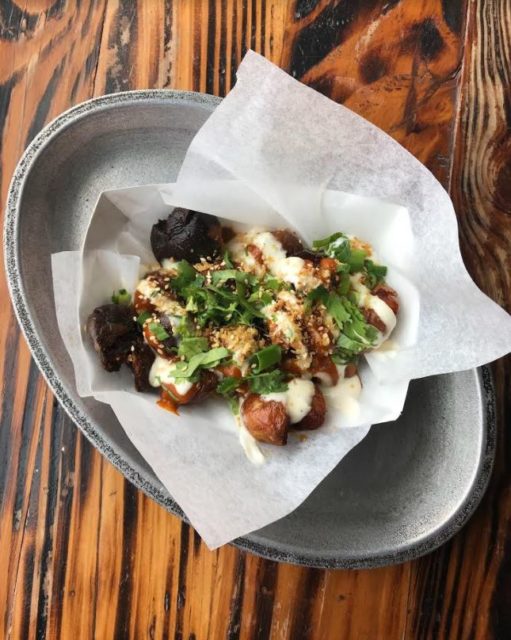 Crack-ed Potatoes $4.49 Crispy fried pee wee potatoes, ssamjang "crack" sauce, garlic oil, mayo, scallions, cilantro, sesame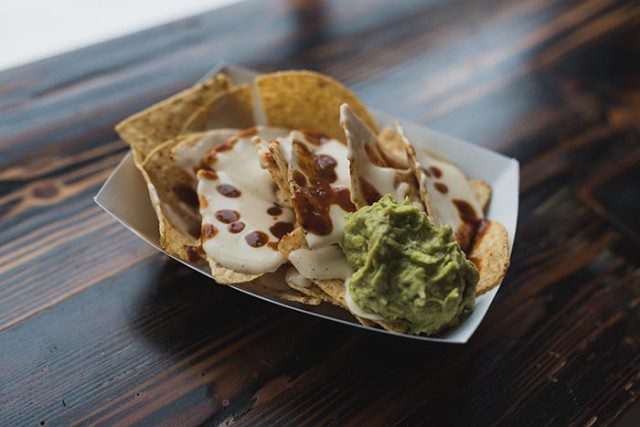 Reg Nach $3.79 Stone ground corn chips, Roja, lloyd Queso OR Guac
Summertime Salad $5.49 Marinated watermelon & tomatoes, baby kale, cilantro, mint, queso fresco, pickled watermelon rind, sweet chile de arbol vinaigrette
Side of the Week Ask your Maître 😀
---
Sweet Spot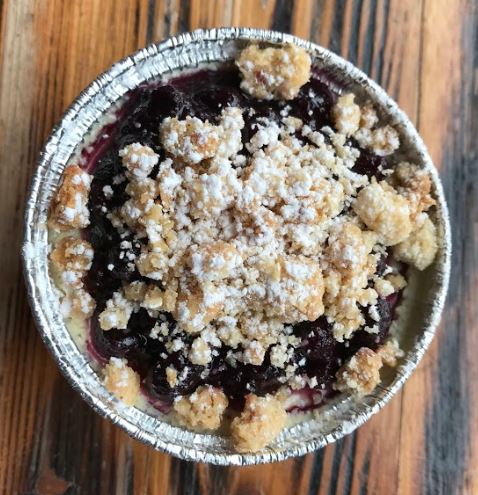 Snozzberry Cheesecake $3.29 G.O.A.T. cheesecake, Snozzberry sauce, oatmeal crumble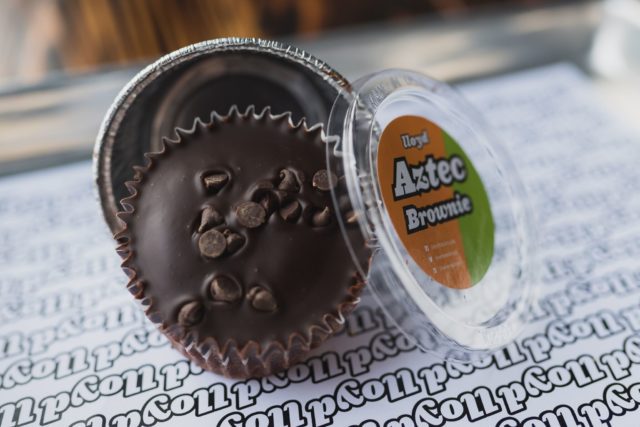 Aztec Brownie $2.79 Fudgy cake, spicy mocha ganache, chocolate chips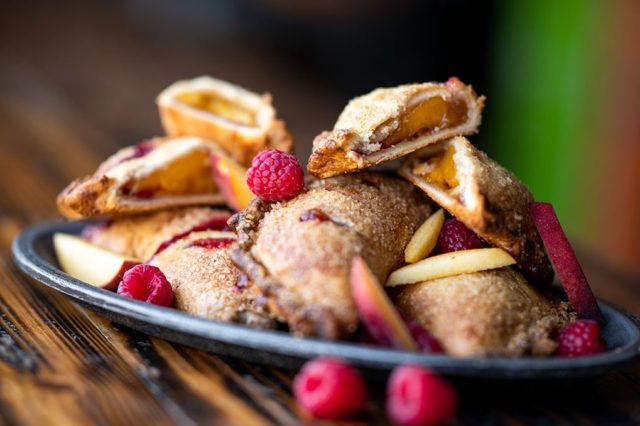 Peach n' Raspberry Hand Grenade $3.59 Peach & raspberry jam-filled pastry pie
---
Drinks
Mexican Coca-Cola $2.49
Jarritos $2.29
NYS Spring Water $1.99
---
Take lloyd Home
11″ Flour Tortilla (Local/Organic) 12 for $5.99
Fresh Tortillas 12 for $2.79 • 24 for $4.99
Fresh Masa $1.99 per lb.
Rocket Sauce $4.99