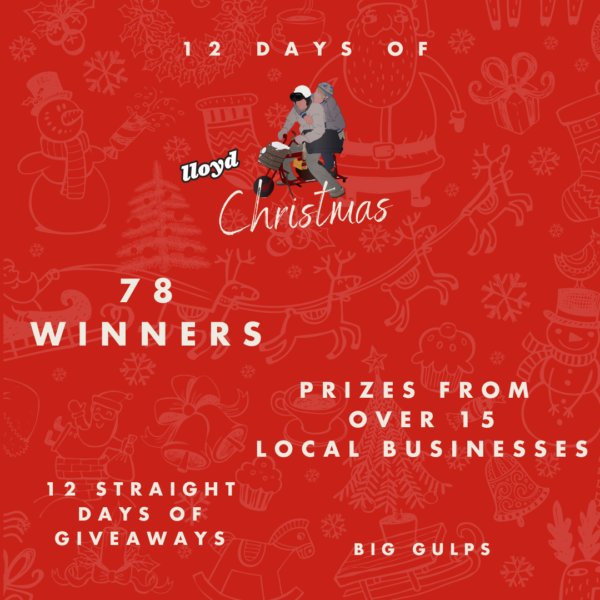 For the second straight year, lloyd is proud to present the 12 Days of lloyd Christmas featuring the grand prize of a brand new Honda Metropolitan Scooter! Big big thanks to Bob Weaver Motorsports & Marine, Inc. for that! 12 straight days of giveaways begins Sunday, Dec. 12th & runs through Dec. 23rd with the grand prize giveaway. We have teamed up with over 15 local businesses to bring you over 75 gifts!
How it Works
Place an order in-person or online (DoorDash excluded) at either Taco Factory location (1503 Hertel Ave. and 5933 Main St.). On day one, we're giving away 12 prizes. On day two, 11 prizes and so on until Dec. 23rd when we give the grand prize away to one lucky customer.
We have thousands of dollars in prizes up for grabs BESIDES the Honda Metropolitan. Four people can win a year's worth of ice cream, three people can win $333.33 gift cards to the Lexington Coop, lift tickets to Holiday Valley are up for grabs. Big Gulps, huh? And all you need to do is buy a taco. Place an online order here to put yourself in the running.
*Since we're not open on Sunday, Dec. 12th & Sunday, Dec. 19th, those giveaways will occur on social media. Both lloyd Taco Factory locations are open 11 a.m.-11 p.m., Monday-Saturday.*
The Giveaways
Sunday, Dec. 12: (12) $50 gift cards to local restaurants
Monday, Dec. 13: (11) lloyd hats & socks
Tuesday, Dec. 14: (10) Snozzberry Sour 4-Packs
Wednesday, Dec. 15: (9) Dolly Parton Holiday Vinyls
Thursday, Dec. 16: (8) Buffalo Edition Monopoly Boards
Friday, Dec. 17: (7) Dumb and Dumber Funko Pops
Saturday, Dec. 18: (6) Big Gulps & lift tickets to Holiday Valley
Sunday, Dec. 19: (5) People get $150 towards adopting an animal of their choice
Monday, Dec. 20: (4) People get a Year of free ice cream to Churn!
Tuesday. Dec. 21: (3) $333.33 Lexington Co-op gift cards
Wednesday, Dec. 22: (2) Oculus Quests
Thursday, Dec. 23: *GRAND PRIZE* Honda Metropolitan Scooter!
aaaa